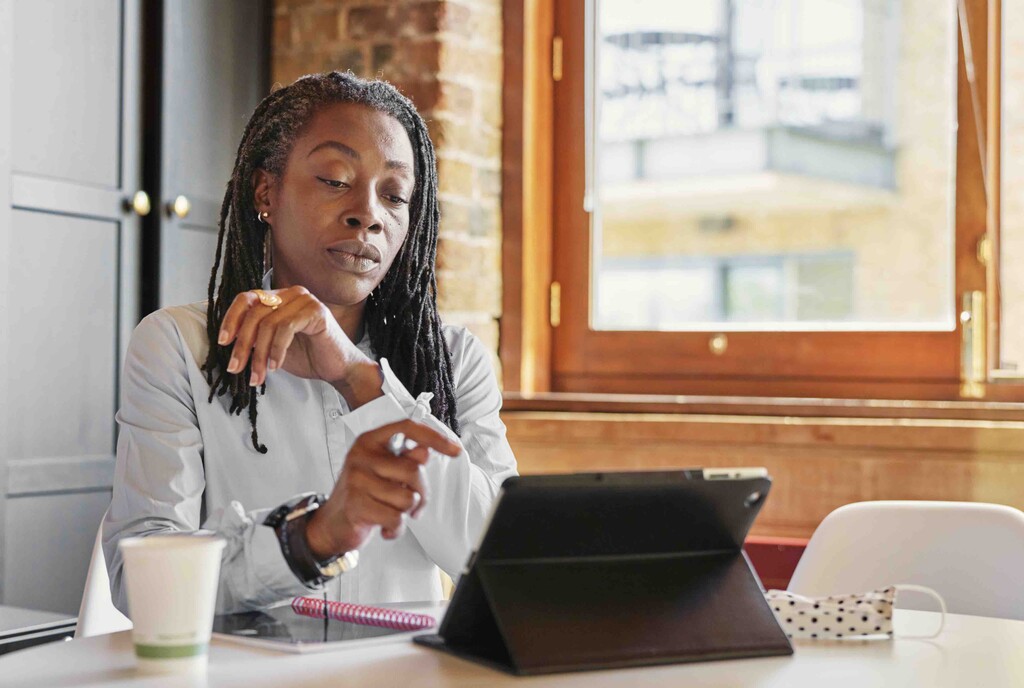 Have you ever worked so hard that you invested more hours than anyone else, brought in the largest deal, the most impressive logo, and exceeded your quota by 200%?
I did.
I remember being the first one in the office and one of the last to leave. I managed to retain the company's most significant enterprise account at risk of early contract termination while simultaneously driving tens of millions of dollars in new contract value.
But did I get promoted after that? No. Getting passed over for promotions and opportunities really sucks! Then, one of the CEOs I worked with told me that I was a workhorse and "that women who are workhorses don't get promoted." I was disappointed, hurt, and insulted to my core.
Fast forward to this year, I remembered this episode when I had a Zoom coaching session with Chris Spencer, Sr. Business Account Executive at T-Mobile for Business. He said: "Performance will get you paid, but not promoted!" (Chris is a member of the Anchoring Sales Leaders cohort, for T-Mobile's high-performing underrepresented minority men)
I had an actual light bulb moment! Because he was right, positive thinking and top performance are not enough to get promotions. And that's especially true when you're Black and Brown – and unseen! So, what works, then?
Harvey Coleman laid it out in his book "Empowering Yourself: The Organizational Game Revealed" through the PIE formula for career success:
Performance. Get better at what you do: sharpen your skills, educate, self-evaluate, enhance productivity, and so on. But know that it makes only 10% of what's required for promotion!
Image. How you behave, appear, and act is more important than you know. According to Coleman, it accounts for a good 30%! This includes verbal and non-verbal communication, how you dress, collaborate, communicate, and express your attitude.
Exposure. Visibility, getting yourself out there, and playing big is the most critical element in this formula. It will land you 60% of the attention of those who need to see you! And no, this is not some current trend sparked by the era of social media. Coleman's book was published in 1996, so it was always important to be visible to the right people.
I like to talk about getting a "seat at the table of your dream" to help Black and Brown women find their voice and advance their careers. Inspired by this book, I started to apply the PIE methodology and design a promotion action plan by leveraging what I learned in my career.
So, in this article, I will bring my experience and ideas aligned with the PIE career model over the next three sections. If you think you work too hard but are not getting that promotion or a raise, I invite you to join me on a journey.
Fasten your seatbelts. We're going on a ride! Are you coming?
How to Get Promoted in Sales, Section I, Performance: Good Enough, Isn't.
"Good enough, isn't!" It sounds like Master Yoda's grammar style, but it's actually a family motto I was raised on. My father was a general contracting business owner, and I started working with him while still in grade school. He thought that you could achieve great things with hard work, trust, and ingenuity. The memory of how I learned what he was saying all along – that being just 'good' is not enough to be successful – is still very vivid in my mind.
So, Dave and Delores were my dad's customers who hired him to convert their attic into the main bedroom suite. As my dad showed the couple their new space, I polished the bathroom tiles. I remember Delores squealing with delight when she saw the custom-built shoe racks in the large walk-in closet. Then she and I went downstairs to the kitchen, and my dad and Dave stayed in the bathroom to check the Jacuzzi. Delores and I heard a popping sound just above us, as they were trying out the water jets upstairs. I looked up only to see the ceiling plaster above our head crack.
My dad and I spent the following two weeks reconfiguring the bathroom, moving the tub over a weight-bearing wall, and repairing the plaster. Unfortunately, we lost all the profit in that project, along with a piece of dignity. It was a hard lesson, but I learned that just 'good' is not good enough.
To reach higher levels of performance, I always challenge myself to achieve mastery, constantly improve, and never settle. In his book "Make It Stick: The Science of Successful Learning," Peter Brown states that if we refocus our efforts on areas of poor performance, we can raise our game.
Here are three steps to discover your weaknesses and strengthen them to achieve sales mastery:
Find your weaknesses. Have a deep, honest look at your performance and identify gaps. Setbacks show us where we need to do better.
Commit to improvement. Dedicate yourself to becoming more competent through reflection, new skill development, and repetition. What we practice will improve.
Implement a "Well & Better" self-evaluation process. After, for example, a client call, ask yourself, "What did I do well?" Next, think of three-five things you did well. Follow that question with "What could I have done better?" Then, think of three-five things you could have done better.
Repeat steps one, two, and three until your performance improves.
But remember. While performance is critical to get you into the 'big league,' it accounts for only 10% of your promotion success, according to the Harvey Coleman P.I.E. career formula. In the next post, we'll discuss the second step that takes away 30% – your image.
So here's my challenge, I invite you to share on LinkedIn how you improve your performance. Let's learn from each other!
How to Get Promoted in Sales, Section II, Image: Design Your Executive Presence.
You know that feeling you get in the pit of your stomach, right before the tears well up in your eyes, after you have been passed over for a promotion – for the second time?
I remember that very well. As we're discussing throughout this post, there are many possible reasons you are not getting that promotion or raise. However, according to Harvey Coleman and his PIE career model, your performance is probably not among those reasons, as it impacts the promotion decision only by 10%.
Something else is more important and takes away 30% of leadership attention, so next, I want to talk about that. It was the one reason I was told why I was frequently passed over for promotion – I didn't have an 'executive presence.' This is the same thing that Harvey Coleman talks about in the middle of his PIE career model: image.
Maybe you have been told that you are too loud. Or angry looking. Or too excited and overly enthusiastic. Or were you portrayed as too harsh and unrefined? All that falls under your image, and you might need to work on it to have an 'executive presence.'
I was lucky to have an opportunity to learn from a true leader and one of my mentors, William (Bill) Green, the former CEO of Accenture. He said that when they promote managers into the C-suite, they look for Character, Class, Touch, and Tone. Here's what that means:
Character is the heart of leadership. It shows your essential qualities such as competence, confidence, humility, caring, courage, integrity, resilience, and generosity. So, all those positive traits that we look up to. There is no room for lying, cheating, taking bribes, or getting controlled by anger.
>> These characteristics can be developed and practiced over time. Try to get honest feedback as you build your character; it helps you improve faster.
Class is your style that involves good manners, politeness, pride without showboating, empathy, humility, and an abundance of self-control. It shines through your body language and verbal communication. It's important to know that money and success cannot give you class; it comes from within.
>> Strive to change your behavior for the better, raise the quality of your attitude, and level up your standards. You'll notice when people start to treat you differently.
Touch combines personal attributes that make a leader so attractive. It shows how you treat or affect people with feelings or emotions, especially tenderness, empathy, and gratitude.
>> Practice empathy and kindness. As the great poet Kahlil Gibran said: "Kindness is like snow. It beautifies everything it covers."
Tone is an essential characteristic of a leadership position. A leader sets the tone for an entire team. So it's true when they say that attitude is contagious.
>> Pay attention to how you express yourself. The style of how you incite feelings with your writing, speech, attitude, and mood should be an example to live by.
I hope this helped you at least think about this perspective that is so vital and yet often ignored. Are you ready to raise your game and get that seat at the table of your dreams? Go, get it!
How to Get Promoted in Sales, Section III, Exposure: To Break the Glass Ceiling, Never Eat Alone.
The final slice of the PIE success theory takes the largest cut – a full 60% – and that's exposure. But before I get into that, I wanted to explain the title. It combines a famous business expression about getting promoted into the C-suite and a popular book about the power of networking. Here's why.
Many years ago, I was climbing the corporate ladder with little knowledge of how that system works. I knew I needed to work hard, master my skills, and bring results. But, we already talked about how that is not enough to get to the top.
Hard work can get you a couple of promotions, maybe you get to be a director or a VP, but you're never going to get into the C-suite just for being great at your job. I like to say that I have 'skinned my knees and elbows' to get to the table of my dreams. However, I didn't understand how to get you through the glass ceiling and the actual promotion structure at the time.
I finally understood when I met Chad Thompson, General Manager of HR, North America Exploration and Production at Chevron. He shared his '4 D' framework as a roadmap for navigating corporate promotions. To me, this is how you can increase the 'Exposure' element from the PIE model.
Desire – represents ambition, striving to go to the top, and drives action.
Development – signifies the growth mindset, which includes identifying key strengths as well as skill gaps that are fixed.
Decision Makers – means networking, building, and maintaining relationships with those who sit at the table where and when the promotion or bonus decisions are made. Learn about it in one of the most influential books in business and an excellent resource for learning how to flex your networking muscles "Never Eat Alone: And Other Secrets to Success, One Relationship at a Time" by Keith Ferrazzi.
Design System – every company has its promotion system as an unwritten rule, such as taking on an international assignment for a while.
While I was aware of the first two points, the last two were something I'd never heard of before. So I wondered afterward: "If I knew about this, could I have cracked that glass ceiling with several companies that I left because they wouldn't promote me?"
Black and Brown Women, in particular, seldom learn how to navigate a company's 'Promotion System Design' successfully. If you want to take a seat at the table of your dreams, you need to build relationships and network with the right people.
So, here's my challenge for you to help you start exposing yourself more:
Broaden your network on LinkedIn with five new people. Do it now. It could be peers from your industry vertical or targeted prospects with your ideal customer profile.
Leverage LinkedIn Sales Navigator. I love how it helps companies target the right buyers and personalize every outreach while building true relationships with organizations – even if one or more stakeholders exit the picture. It's so important to find an effective way to prospect leads and close deals, and for that, Sales Navigator is killer. (InMail me if you would like a free Sales Navigator trial)
Read "Never Eat Alone" and then share some of your impressions and insights.
Also, feel free to share if you recognized some specific type of the 'promotion design system' in your current or past company.
Let's talk connections and get you those promotions!